Steam Deck 256GB NVMe SSD
| | |
| --- | --- |
| Zen 2 + RDNA 2 powerhouse | Delivering more than enough performance to run the latest AAA games in a very efficient power envelope. |
| 7″ touchscreen | Sports a 7-inch 1280 x 800 LCD touchscreen that runs a refresh rate of 60Hz |
| Trackpads | Gives you a competitive edge when playing fast paced FPS games. |
| 40Wh battery | You can expect to get the maximum battery life of approximately 7-8 hours. |
Available on backorder
Description

Steam Deck 256GB NVMe SSD
Steam Deck™ is the most powerful, full-featured gaming handheld in the world. It is a Zen 2 + RDNA 2 powerhouse, delivering more than enough performance to run the latest AAA games in a very efficient power envelope.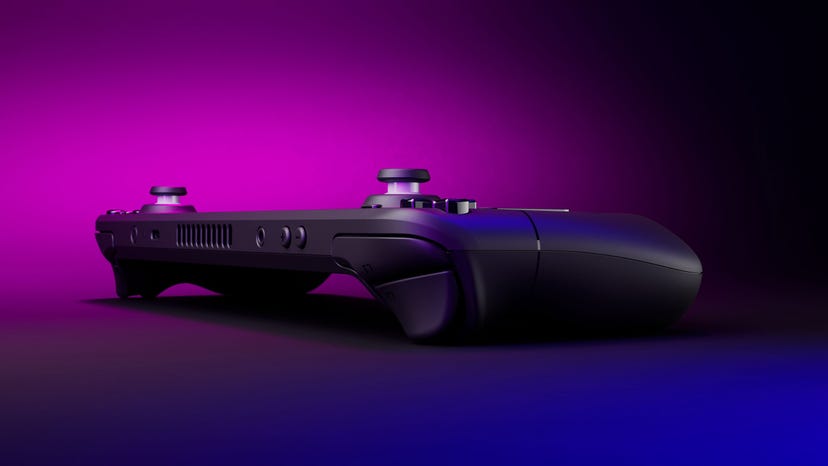 Your Steam Library, anywhere
Once you've logged into Steam Deck, your entire Steam Library shows up, just like any other PC. You'll also see the compatibility rating of each game, indicating the kind of experience you can expect when playing. You can dynamically filter any view in your library by compatibility rating if you're looking for specific sorts of experiences.

7″ touchscreen
The Steam Deck sports a 7-inch 1280 x 800 LCD touchscreen that runs a refresh rate of 60Hz. Type and swipe through the Steam UI with Deck's capacitive multi-touch display.

Trackpads
Play PC games that were never designed to be handheld. With increased precision and customizability, trackpads also give you a competitive edge when playing fast paced FPS games.

Gyro
With an IMU and capacitive touch thumbsticks on-board, Deck helps you aim better. By physically positioning the device you can achieve more precision than using a thumbstick or trackpad alone.

Plays nice with all your accessories
Steam Deck is Bluetooth-ready, and its USB-C port can handle all sorts of I/O. Want to have a fighting tournament on the go? Covered. Want to play with Bluetooth mouse and keyboard? Covered. Want to pair your favorite Bluetooth headphones? You're good to go.

Deck can be plugged in to your TV
Deck can be plugged in to your TV, monitor, or even your old CRT if you have the right cables. When docked, the Steam Deck's USB-C port can carry video, audio, input, etc. Just plug in your peripherals, or use the docking station, and you're ready to go.
40Wh battery
Steam Deck's onboard 40 watt-hour battery provides several hours of play time for most games. For lighter use cases like game streaming, smaller 2D games, or web browsing, you can expect to get the maximum battery life of approximately 7-8 hours.
Specification
KEY SPECS
Brand
Valve
Product Name
Steam Deck 256GB NVMe SSD
Processor
AMD APU
CPU: Zen 2 4c/8t, 2.4-3.5GHz (up to 448 GFlops FP32)
GPU: 8 RDNA 2 CUs, 1.0-1.6GHz (up to 1.6 TFlops FP32)
APU power: 4-15W
RAM
16 GB LPDDR5 on-board RAM (5500 MT/s quad 32-bit channels)
Storage
256 GB NVMe SSD (PCIe Gen 3 x4 or PCIe Gen 3 x2*)

CONTROLS AND INPUT

Gamepad controls
A B X Y buttons
D-pad
L & R analog triggers
L & R bumpers
View & Menu buttons
4 x assignable grip buttons
Thumbsticks
2 x full-size analog sticks with capacitive touch
Haptics
HD haptics
Trackpads
2 x 32.5mm square trackpads with haptic feedback
55% better latency compared to Steam Controller
Pressure-sensitivity for configurable click strength
Gyro
6-Axis IMU

CONNECTIVITY

| | |
| --- | --- |
| Bluetooth | Bluetooth 5.0 (support for controllers, accessories and audio) |
| Wi-Fi | Dual-band Wi-Fi radio, 2.4GHz and 5GHz, 2 x 2 MIMO, IEEE 802.11a/b/g/n/ac |

DISPLAY

| | |
| --- | --- |
| Resolution | 1280 x 800px (16:10 aspect ratio) |
| Type | Optically bonded IPS LCD for enhanced readability |
| Display Size | 7″ diagonal |
| Refresh Rate | 60Hz |
| Touch Enabled | Yes |

AUDIO

| | |
| --- | --- |
| Channels | Stereo with embedded DSP for an immersive listening experience |
| Microphones | Dual microphone array |
| Headphone / mic jack | 3.5mm stereo headphone / headset jack |

POWER

| | |
| --- | --- |
| Input | 45W USB Type-C PD3.0 power supply |
| Battery | 40Whr battery. 2 – 8 hours of gameplay |
Related products